Steel, Alloy Steel, Stainless Steel, Heat Resistant Steel & SG Iron Castings Manufacturer
What We Do
Steel, Alloy Steel, Stainless Steel, Heat Resistant Steel & SG Iron Castings Manufacturer
Parikh Metacast Pvt Ltd is a child company of Parikh Metaliks Pvt Ltd. firmly established in 1998. The company is ISO 9001:2015 certified and proficient in manufacturing steel, alloy steel, stainless steel, heat resistant steel and SG Iron castings up to 7000 kg single piece.
We supply various critical castings for industry segments like Crusher Manufacturers, Thermal power projects, Automobile Tool-room, Marine & Shipbuilding division, Power & Transmission, Cement machinery, Steel plant equipment manufacturers, Material handling equipment manufacturers, Pump & Valves manufacturers etc.
Our facilities are designed to meet variable requirements in terms of size, weight, criticality and grades of Steel and Ductile Iron. This enables us to take up challenging cast components having weight range up to 7000 kg and almost all grades of Steel, Stainless Steel and Alloy Steel.
Majority of our components are being supplied in finish machined condition with relevant NDT testing (like UT, MPI, RT) done. We are also approved by ABS (American Bureau of Shipping) & IRS (Indian Register of Shipping) for manufacture of steel castings for Marine/Shipbuilding projects. We have always kept the growing 'Customer Satisfaction Index' as our TOP PRIORITY.
Read More
Material
Steel
Alloy Steel, Stainless Steel
Heat Resistant Steel
SG Iron (Ductile)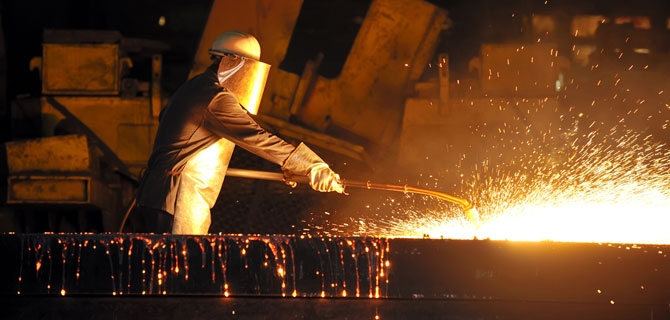 Casting Range
Weight : up to 7000 kg.
Value Addition
Heat Treatment
Machining
Auto Quenching (Water)
Sub-assembly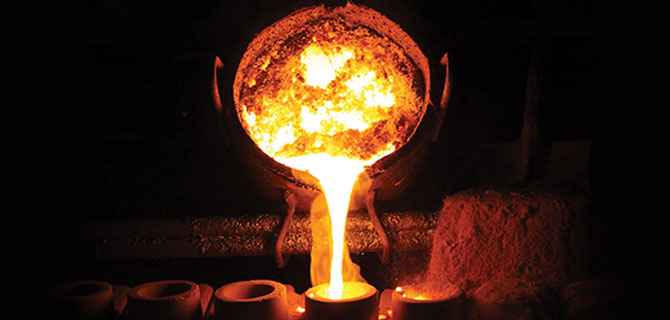 Annual Volume
Volume : 3600 MT
Segments We Serve
"Highly Complex Casting Parts, of Almost Any Size"
Our Steel Casting Foundry Products
Piston Housing
Weight : 1818 Kg
Insert Die Casting
Weight : Upto 6000 Kgs
Dummy Bar Head
Weight : 691 Kg
Pulley-280
Weight : Upto 6000 Kgs
Crown Pinion
Weight : 1989 Kg
Bearing Housing
Weight : 3153 Kg
Rear End Frame
Weight : 1118 Kg
Bowl Casting
Weight : 3900 Kg
Moving Arm
Weight : 1989 Kg
Spider Hub Casting
Weight : 869 Kg
Front End Frame
Weight : 2551 Kg
Base Plate Casting
Weight : 613 Kg
Centre Cone Casting


Weight : 163 Kg
Valve Body Casting Set
Weight : 3286 Kg
Anchor Head Casting
Weight : 564 Kg
Centre Cone Casting


Weight : 163 Kg
Assembly Valve Discharge
Weight : 902 Kg
Middle Roll Chock


Weight : 1950 Kg
Robust QMS Implementation
Our quality management system adheres to ISO 9000:2015 and we are committed to maintaining a Quality Management System (QMS) implemented at all levels of the company to assure that products and services meet our customers' requirements and applicable regulatory requirements.
Our employees are trained to incorporate quality into the foundry process, allowing us to consistently deliver porosity-free, pressure-tight castings meeting dimensional tolerances.
We maintain a clean and well-lit facility conducive to quality production. The quality tools such as RCA, KAIZEN, waste management, 5S & visual factory are also being used for continual improvement
Product Quality, On Time Delivery and Satisfied customers are the result of our QMS culture.
Recognition
We have vast experience of catering to casting requirements under 3rd party inspections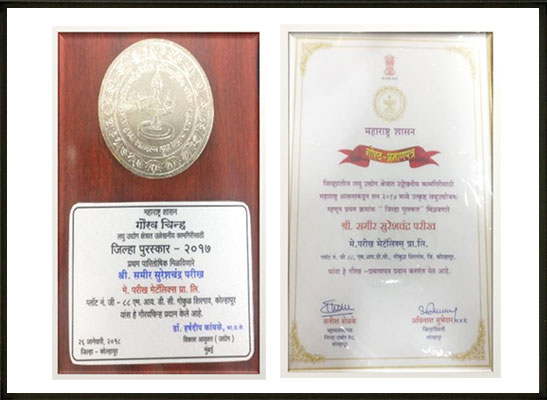 Best Small Business District Award 2017