Steel, Alloy Steel, Stainless Steel, Heat Resistant Steel & SG Iron Castings Manufacturer
What We Do
Steel, Alloy Steel, Stainless Steel, Heat Resistant Steel & SG Iron Castings Manufacturer
Parikh Metacast Pvt. Ltd. is an ISO 9001:2015 certified company and child company of 21 years old Parikh Metaliks Pvt Ltd.
We manufacture steel, alloy steel, stainless steel, heat resistant steel and SG Iron castings up to 7000 kg single piece. We have been manufacturing & supplying various critical castings for industry segments like Crusher Manufacturers, Thermal power projects, Automobile Tool-room, Marine & Shipbuilding division, Power & Transmission, Cement machinery, Steel plant equipment manufacturers, Material handling equipment manufacturers, Pump & Valves manufacturers etc. Majority of our components are being supplied in finish machined condition with relevant NDT testing (like UT, MPI, RT) done. We are also approved by ABS (American Bureau of Shipping) & IRS (Indian Register of Shipping) for manufacture of steel castings for Marine/Shipbuilding projects.
Our facilities are designed to meet variable requirements in terms of size, weight, criticality and grades of Steel and Ductile Iron. This enables us to take up challenging cast components having weight range up to 7000 kg and varieties of grades of Steel, Stainless Steel and Alloy Steel
Our facility is also been approved by L&T MHPS Boilers Pvt Ltd, Metso Minerals Ltd, Elecon Engineering for their regular requirement of castings. We recently have supplied one casting to M/s Nihal Industries in C-45 which was weighing @ 7.2MT. We are very keen on developing critical castings & supplying in proof/finish machined condition. We are confident of meeting stringent QA requirements given an opportunity.
We have always kept the growing 'Customer Satisfaction Index' as our TOP PRIORITY.
---
Our Foundry Capability
Material
Steel
Alloy Steel, Stainless Steel
Heat Resistant Steel
SG Iron (Ductile)
Value Addition
Heat Treatment
Machining
Auto Quenching (Water)
Sub-assembly
Casting Range
Annual Volume
Our Core Ideology
Our Mission
We manufacture various steel, alloy steel, stainless steel, HRCS & SG Iron castings up to 7MT single piece for Thermal Power plants, Ship building, Automobile Tool-room, Planetary gearbox, Pumps & Valves & Crusher Manufacturers, facilitated bymanufacturing techniques like simulation, SOPs & providing end to end solutions from patterns to machined parts with a team of technically competent & motivated employees.
Our Strengths
Consistent & reliable input material.
Competitive cost/price with committed delivery.
Self-motivated team with required competencies & tonnes of experience.
Adapting required automation in manufacturing processes.
Striving to meet our ever-growing customer needs.
Numerous Third-party inspection agency approvals.
In-house facilities to meet Machining & NDT requirements.
Adaptability & flexibility to innovations.
Our Leadership
Samir Parikh
(MD & CEO)
He completed his formal graduation in Mechanical Engineering from COEP, Pune started a foundry named "Parikh Metaliks Pvt Ltd" in Gokul Shirgaon MIDC. In Kolhapur in 1998. In less than a decade of his hard work, dream, initiatives & inquisitive behaviour flourished his enterprise into Parikh Group of industries.
His expertise, strong foundation of ethics, leadership have led the group to its successful position today. With keen eye for cutting edge technology implementation & quality output he has ensured consistent growth in customer satisfaction and thereby business volumes. Other than his business accomplishments, he has also been the Chairman of Indian Institute of Foundryman (IIF) Kolhapur Chapter.
---
Nirmit Parikh
Director
He is the second generation of the Group. Driven with Passion & interest in Foundry business, he was eager to join the thriving family business. After completing his B-tech Mechanical he took an experience in a Foundry to learn the aspects of the Group's operation & systems. He later joined the business & got involved in setting up this dream project "Parikh Metacast Pvt Ltd" with his father as a Project head. With his skills honed, he has become an indispensable part of the group. After he underwent training with his father, he has kept in tune with the ethos of the group. He believes that a successful business can be built through strong relationships & ethics.
Our Team
At Parikh Metacast an experienced and rearing to go team of over 100+ employees, is consistently trained to upgrade itself with latest technology trends in foundry industry, making it a versatile solution provider. With an average tenure of ten years, our workforce is knowledgeable, experienced, dedicated and efficient.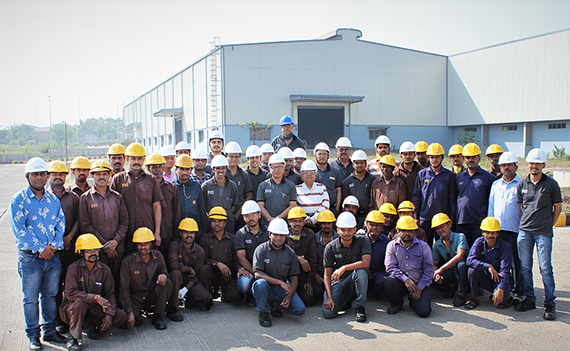 Our Infrastructure
The manufacturing process and systems of Parikh Metacast are best accepted internationally. The industry comprises state of the art facilities for molding, melting, shot blasting, fettling, machining and assembly of engineered castings and components under one roof. Our testing and inspection infrastructure include pyrometer, well equipped sand testing lab, UTN Machine with extensometer and computerised optical spectrometer for chemical analysis up to 21 elements during melting sequence ensures chemistry of molten metal to suit diverse range of steel castings, alloy steel castings and stainless steel castings for different applications
Moulding -Continuous Sand Mixer

Melting-Induction Melting Furnace
We Promise
Benefits to Our Esteemed Customers & Employees
Sustain & Improve Our Environment
Transparent Communication
Quality Product
Fair Price
Timely Delivery
Recognition
We have vast experience of catering to casting requirements under 3rd party inspections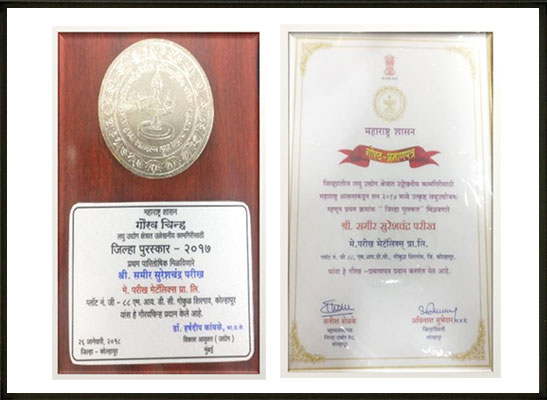 Best Small Business District Award 2017